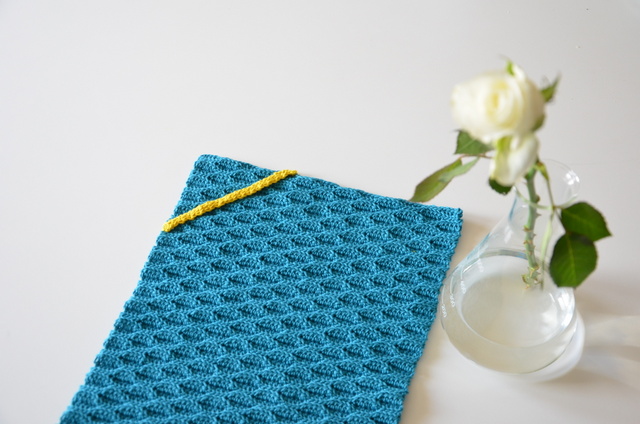 I dag blev jeg færdig med endnu et hæklet håndklæde, dette er med bølgemønster. Bølgemønsteret er fra Sidsel Sangilds
pulsvarmere, 
som jeg lavede for nogle måneder siden. Jeg har ganget antallet af masker i opskriften med 1,5 og har fortsat med rækkerne, indtil jeg syntes at håndklædet havde opnået en passende længde. Da håndklædet var færdigt, hæklede jeg en gul strop på kanterne med skiftevis fastmasker og kædemasker.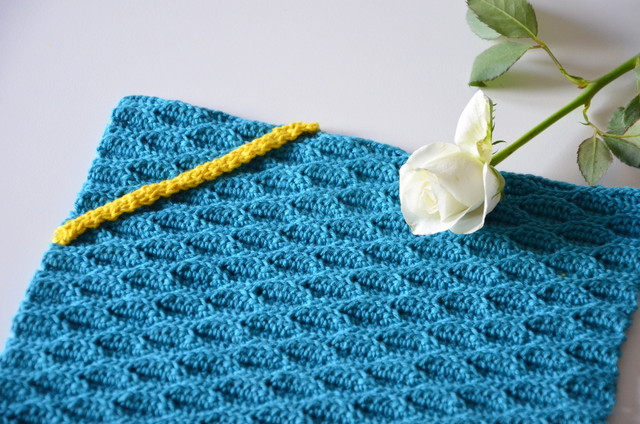 I crocheted this towel for the kitchen, I have used the same pattern as described in Sidsel Sangild's pattern for wrist warmers ( my version here)
I have multiplied the number of stitches by 1.5 compaired to the original pattern from Sidsel. 
I have added a yellow strap on the left side of the towel, and crocheted it on the top and side stitches.