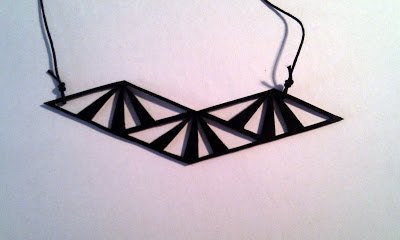 Geometric Necklace
Når jeg overfører billeder til krympeplast, printer jeg et billede ud eller tegner et på papir, derefter klipser jeg papiret fast på krympe plasten. Derefter bruger jeg en skalpel til at fjerne det inderste på motivet, tilsidst skærer jeg motivet fri.
Man kan også vælge at tegne motivet over på krympeplasten, synes det er bedst med kridt, da blyant er svær at fjerne igen, især på hvid krympeplast.
Men ellers er det bare med at prøve sig frem.
Når plasten er krympet kan du altid lige rette til med en skalpel, eller anden skarp kniv. Jeg tegnede figuren nedenunder i Inkscape.
Here is a little tutorial on how to transfer a motive to shrinking plastic: You can choose to draw your motive in eg. inkscape and print it out on paper. Then attach the paper to the shrinking plastic with paper clips or staple them together. Use a scalpel to remove the white areas, start with the inner areas. You can also choose to draw the motive on the shrinking plastic with a pencil, but I find it difficult to remove the lines again. Especially on white shrinking plastic. Sometimes I use chalk for drawing on the plastic. But I find the paper method better.

Klik på billedet for at se orginal størrelse. Gem billedet og print det ud. Overfør billedet til krympeplasten og skær det ud med skalpel. Motivet sættes i ovnen ved 130 grader i ca 4 min. Hold øje med det mens det er i ovnen, når motivet er krøllet sammen og har foldet sig ud igen er det færdigt. Hvis det stadig er lidt buet når det kommer ud så læg et skærebræt med en tung bog ovenpå for at få det til at rette sig ud. Vær opmærksom på at dette skal gøres lynhurtigt, da motivet ellers risikere at gå i stykker hvis det er for koldt. Hvis det bliver lidt for koldt inden du når at rette motivet ud kan du sætte det i ovnen igen i ca 30 sek. Kom snor i halskæden se evt. øverste billede.
If you want you can use the stencil to make a necklace like mine. Click on the picture to get original size (remember the motive shrinks to 1/3 of it's original size) Print out the picture and attach it to your shrinking plastic. Cut it out with a scalpel and put it in the oven for about 4 minutes, maybe less, at 130 degrees. If your motive is not quite flat when it comes out of the oven, quickly put a chopping board and a heavy book on top of your motive. Just be careful that the shrinking plastic has not been cooled down to much, then it will crack. To warm it up again simply put it in the oven for a few seconds (eg. 30 sec. or until it has soften) Attach a string to your motive, now you have necklace.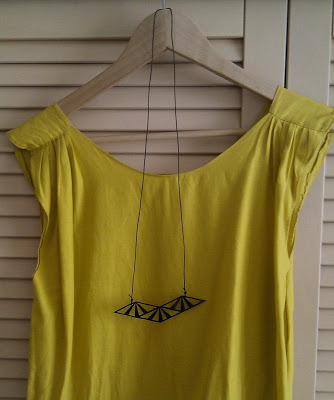 EDIT: Næste gang jeg skærer i krympeplast skal jeg nok tage nogle billeder af processen.
I will add some more pictures of the process next time I draw on shrinking plastic