Jeg er faldet over flere google-blogs, som havde samme problem ligesom Janne (Nulleris) hvor man kun kan kommentere på indlæggene, hvis man er Google+bruger
Så tænkte at jeg ville lave en lille vejledning til, hvordan man får det gamle kommentarfelt tilbage, hvor personer uden google+ profil også kan kommentere.
(hvis ikke du har en Google+ profil, bliver du nødt til at oprette en. Du kan altid slette den igen, uden at din blog også bliver slettet)
Når du er i Blogger klikker du ovre til venstre under Google+.
Missing comment box in Google blogger:
(Sorry guys, I only have the pictures with Danish text, but I will try to explain it in English as well)


I have stumbled upon more blogs with the same problems as Janne at Nulleris had. The problem was that you couldn't comment on her blog unless you had a Google+-profile. I read a lot about it when I helped her last week, so I thought there might be others who also needed help with their comment-issues.
(If you do not have a Google+ profile, you need to make one. You can always delete it again, without your blog is being deleted as well)
When you are in Blogger, click on the Google+ button to the left (see the picture below)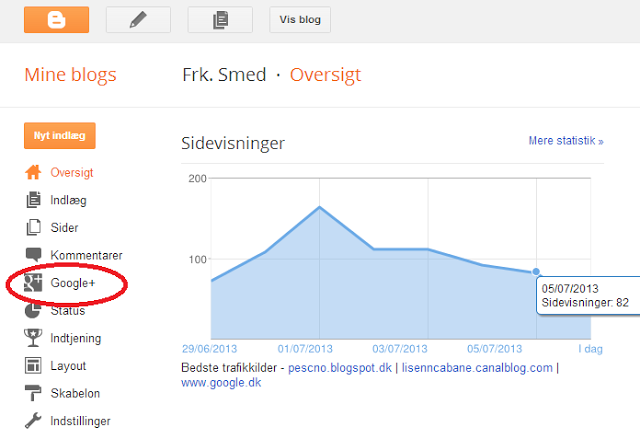 Når du har klikket på "Google+"-knappen kommer der nogle valgmuligheder. Fjern fluebenet fra "brug Google+ til kommentar til denne blog"
NB: Dette sletter dine kommentarer du har fået med dit "Google+"-kommentarfelt.
Tilgengæld kan alle nu kommentere på dine indlæg. Hvis ikke du ønsker dette kan du klikke på "indstillinger"- knappen og vælge "Indlæg og Kommentarer".
(se billedet nedenunder)
When you have pressed the "Google+" button, you should be able to remove the check mark, which says something like this "Use Google+ to comment on this blog"


NB: This will remove all the comments you have gotten with your Google+ comment- box.


Now everybody can comment on your blog. If you don't want this, you can click on "settings" and choose "posts and comments" and then select who should be able yo comment on your blog.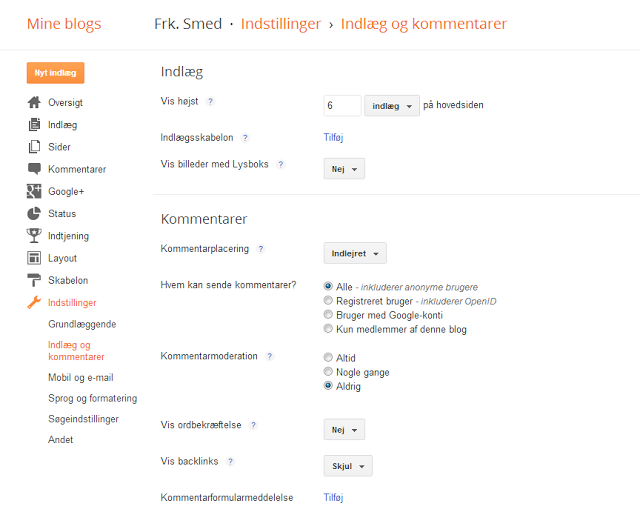 Hvis du har nogle spørgsmål i forbindelse med min vejledning, så spørg endelig.
If you have any questions about my tutorial, please let me know.