Her er en lille hurtig DIY på lidt påskehygge her i helligdagene. Jeg har fundet idéen hos
denne skønne dame
(Tina Dalbøge), som altid har mange skønne idéer. Hvis ikke du allerede kender hende så skynd dig ind på hendes blog og bliv for tryllet af hele hendes univers.
Da jeg så idéen tænkte at det måtte jeg lige afprøve
hendes idé
med at lave påske æg af vatrondeller.
Materialer:
Maling
pensel
flydende lim
vatrondeller.
Here is a quick little DIY on how to make some Easter decorations here in the holidays. I found the idea at this marvelous lady (Tina Dalbøge), she always come up with the most exciting ideas. When I saw her idea about making Easter eggs out of cotton pads, I though that I had to try it too.
The materials for this project are:
acrylic paint
paint brush
liquid glue
cotton pads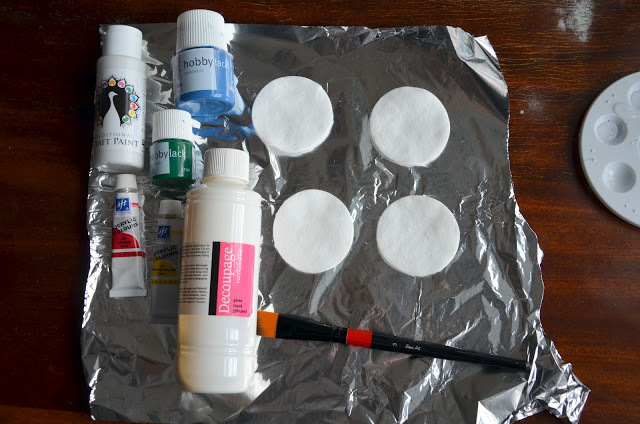 Start med at blande maling, lim og lidt vand sammen, derefter males vatrodellerne på begge sider i den ønskede farve. Når du er tilfreds med farven hives der forsigtigt i toppen så der kommer en spids, hold igen med to fingre i bunden af vatrondellen.
Start mixing the paint glue and some water, paint the cotton pads on both sides. When you are done painting, put two fingers on the bottom of the cotton pad and pull gently on the top. So that you will end up with an egg shaped cotton pad.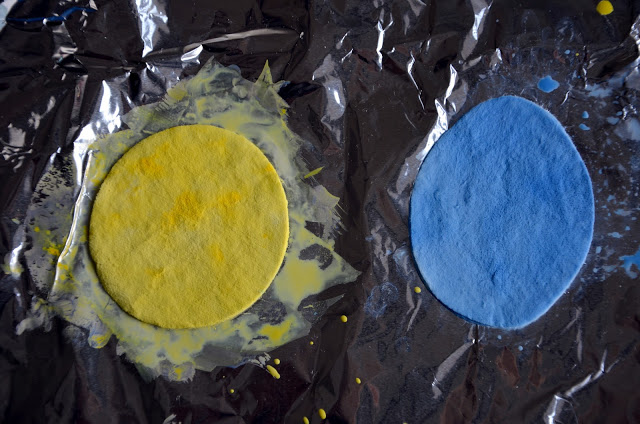 Så er det bare med at vente på at malingen tørrer. Du kan dekorere ægene som du vil, både før og efter malingen tørrer.
Then wait for it to dry, you can decorate your Easter eggs in various ways both before and after the paint has dried.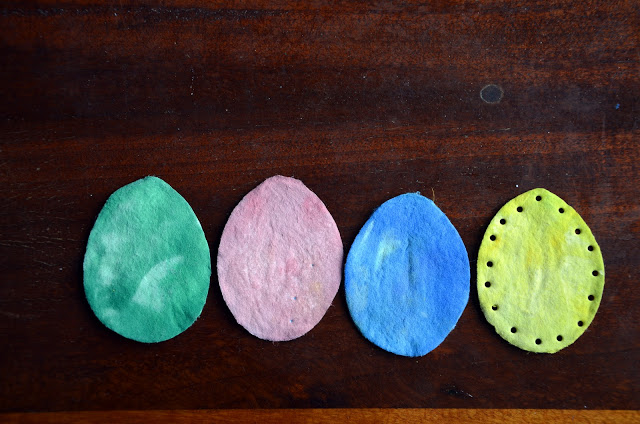 Sådan endte mine påskeæg med at se ud.


This is how I decorated my Easter eggs.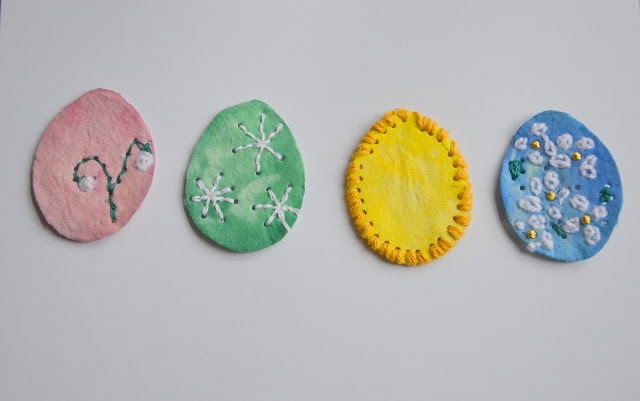 God påske!
Happy Easter!