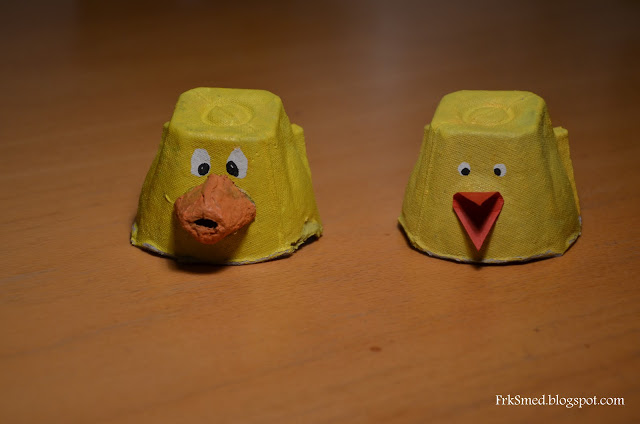 Så er det vidst på tide at der kommer en DIY, det er vidst ved at være et stykke tid siden sidst.
Her er lidt idéer til lidt påskepynt hvor eventuelle børn også kan være med.
(beklager de virkelig dårlige billeder fra min mobil)
Materialerne til dette projekt er:
Æggebakke
gul, orange og hvid maling
sort posca
orange/ rød karton
saks
lim/limpistol
evt. fjer.


Here is Easter deco which also can be made by kids. It has been a while since I last posted a DIY, this has been a draft for a long time now, it has just waited for the right moment to come.
(Sorry for the low quality on some of the pictures)
The materials for this Easter project are:


egg carton
orange/red paper board
yellow, orange and white acrylic paint
black posca pen
scissors
glue
feathers (if you like)
Klip de enkelte tern ud af æggebakken samt de to spidser.
Cut out the egg carton like the picture below.
Nu skulle du meget gerne have en firkant som udgør kroppen af anden eller kyllingen samt et næb til anden.
Begynd at male klodserne gule og "næbet" orange.


Now you have a square for the body of the duck or chicken and a beak for a duck
Start painting the bodies yellow and the beak orange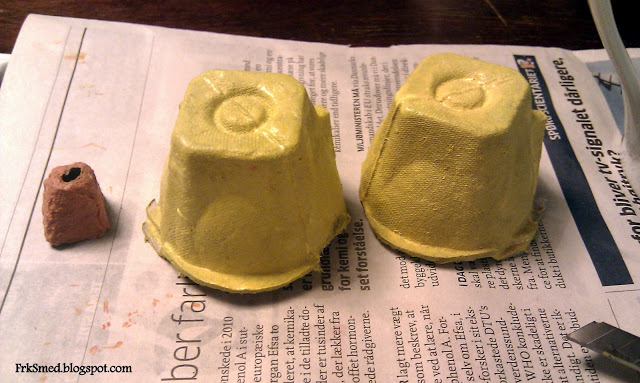 Dernæst males øjenene som hvide cirkler
Then paint some white circles for the eyes.
Mens malingen tørrer, klippes der romber af kartonen (se billedet nedenunder). Romberne foldes på midten og når malingen er tør limes næbet på den gule klods. "Andenæbet" limes på den anden gule klods, evt med limpistol.
Cut the beak (a rhombus) for the chicken while the paint dries. Fold the rhombus and attach it to the "body" with glue when the paint has dried. The duck's beak is glued on the other yellow cube. A tip: you can use a glue gun, it is a bit easier than ordinary glue.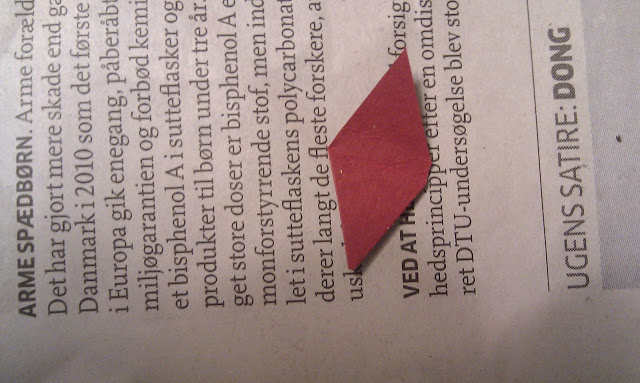 Tag den sorte posca tusch og tegn pupilerne på and og kylling
Eventuelle fjer limes på siden af kyllingen som vinger.
Take the black posca pen and draw the pupils on the duck and chicken. If you like you can glue some feathers as wings on the sides of the chicken.
Så er der lidt pip til stuen.
Så fik jeg endelig lært at bruge mit spejrefleks ordentligt, så må kameraet på mobilen på en pause. (der er vidst ikke så meget tvivl om hvilket kamera der er brugt til de forskellige billeder)
God Påske!
And you are done. I hope you can use the idea for the Easter.
I have finally figured out my camera, I hope you like the huge difference on the quality.
Have a happy Easter!