I setdet for at smide dit gamle ur ud, kan du meget billigt lave det om til et mere moderne og flottere ur, ved bare at skifte skiven ud.
Instead of throwing your old cheap (/ugly) clock out, you can transform it to a more modern clock, simply by changing the paper behind the hands on the clock.
Før:
Before
Efter:
After: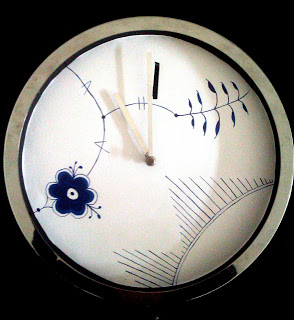 Jeg har ladet mig inspirere (meget kraftigt) af det musselmalede stel fra Royal Copenhagen. Har beholdt urets funktion som sparegris, synes det var en sjov detalje.


The clock is inspired by the Danish design by Royal Copenhagen for an extra detail I kept the clock as a "piggybank".