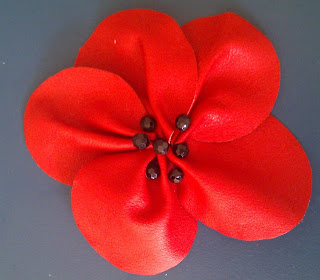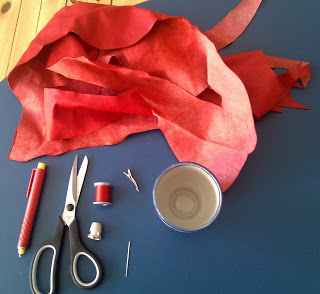 Materialer:
Saks
sytråd
lædernål
en kop
fingerbøl
kridt
krokodillenæb
perler
Materials:
Siccors
sewing tread
needle for leather
thimble
a cup
leather
a maker (e.g chalk)
hair clip
5 beads or more.
Tegn 5 cirkler på læderet og klip dem ud. Fold dem ligesom på billedet nedenunder og sy den sammen. Gentag proceduren for de 4 andre cirkler.
Draw 5 circles on the leather and cut them out. Then fold one of the circles like the picture below. Stitch it together, repeat for the 4 other circles.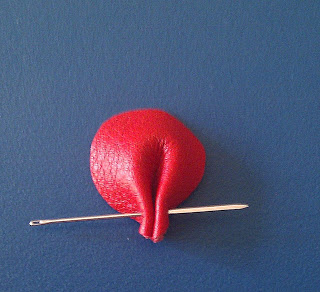 Nu har du 5 blomsterblade, sy dem sammen så de ligger skiftevis øverst og nederst. Se billedet nedenunder. Hvis du synes blomsten mangler lidt ekstra pynt kan du sy nogle perler på.
Sew the 5 pieces together like the picure below. If you like you could stitch some beads on top of your flower.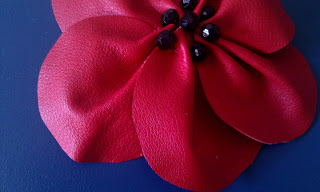 Næste skridt er at sy krodillenæbet på. Der er ret mange måder at få syet den på. Men jeg har klippet en ekstra lille cirkel til at dække syningerne på bagsiden, og derefter syet en lille strimmel læder henover. Men gør det du synes er nemmest
Next step is to attach the hair clip. The circle hides the stitches. There are a lot of different ways to secure your hair clip to the flower. Just do what you find is easiest.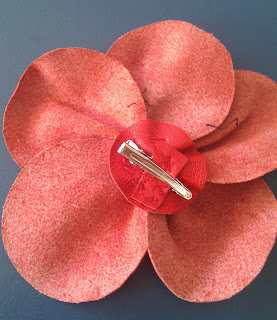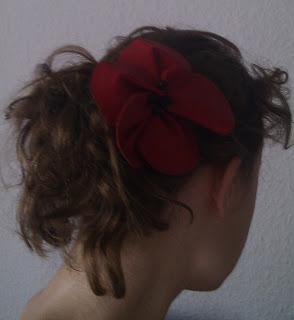 Tata! Klar til brug.
Ready to wear!