Materialer:
Printer+ computer
instant kaffe
vand
opvaskebalje
avis
tålmodighed / hårtørrer
Jeg har efterhånden set en del steder her i blogland hvor folk ødelægger gamle bøger, det kan jeg virkelig ikke få mig selv til. Så her er en vejledning til at få papir til at se gammelt ud og samtidig redde de stakkels gamle bøger. Er virkelig glad for Alice i Eventyrland, så fandt historien på engelsk her. Satte det ind i et tekstbehandlingsprogram, ændrede lidt på skrifttypen og formatet på siden. Hvis ikke du kan finde den helt rigtige skrifttype kan du evt. prøve at lede her. Der er en masse skrifttyper som du kvit og frit kan downloade til Windows eller Mac.
Materials:
Printer+ computer
instant coffee
water
a small tub
newspapers
patience/ hair-dryer
I have seen it a lot of places in "blogland" people tearing up old books, precious book. I can't make my self ruining a antique book. So I decided to make my own "antique book"-pages. I really love alice in wonderland, so I found the text on this homepage and pasted some of the text in a text-editing programme.
I changed the font so it would look more authentic. If out can not find the exact font you are looking for, maybe you can find it here . You can download a lot of free fonts and install it in windows or Macintosh.
Nu til aldring-processen: Bland en god sjat instant kaffe i opvaskebaljen med vand, rør rundt så det opløses helt. Læg papiret i baljen i et par minutter.
Now for the ageing procedure. Make a mixture of instant coffee and water little tub. Print out the pages, and put one paper in at a time, leave it in for a minute or two.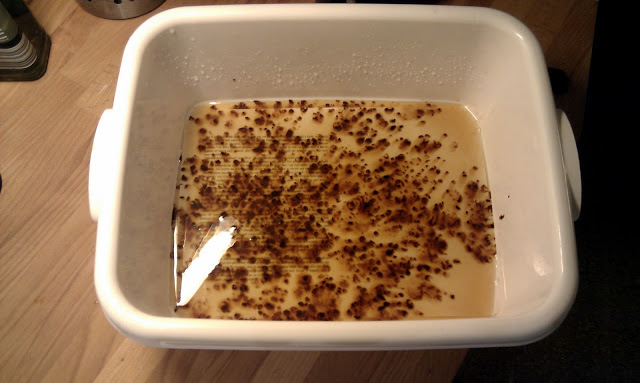 Tub with instant coffee
Jeg tilføjede kaffen efter jeg lagde papiret i baljen, jeg kan klart anbefale at man laver kaffeblandingen først.
I added the coffee after I put the paper in, I recommend you make the coffee mixture before you put the paper in the tub.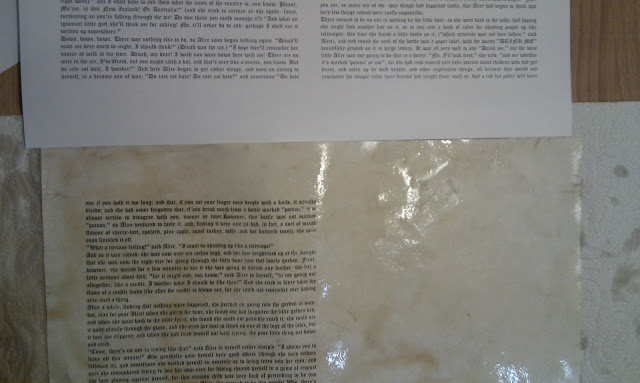 Before and after
Et lille før og efter billede af første omgang patinering.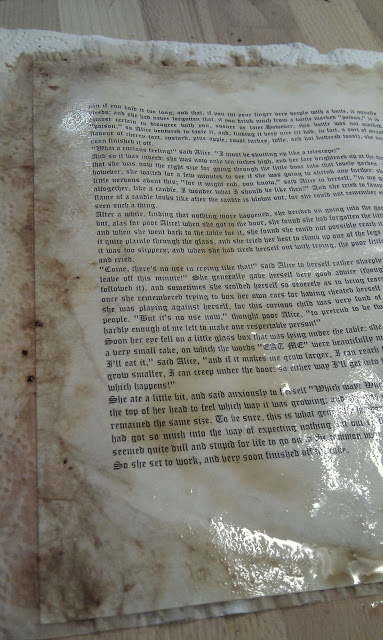 I have added extra coffee on the edges
Hvis du stadig synes at siderne ikke er helt som du vil have dem, kan du duppe lidt pulver i kanterne på det våde papir. Når du synes det er som det skal være lad det tørre på en avis i nogle timer, eller hvis du er lige som mig, tag din hårtørrer og speed processen op.
Det færdige resultat ses nedenunder.
If you are not satisfied by the result you can add some more instant coffee on the wet piece of paper. When it looks like you want it, let it dry for a couple of hours, or use a hair dryer to speed up the process


The finished project.