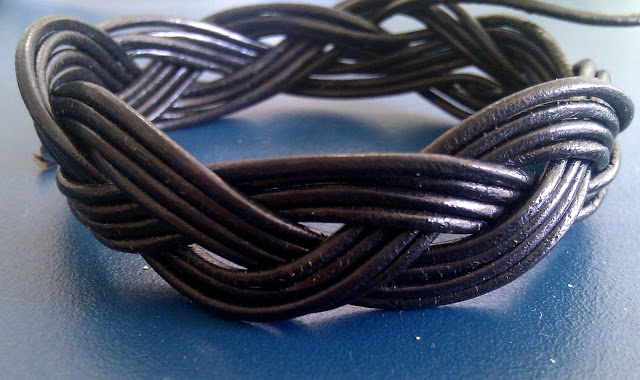 Hvis nogen af jer her brug for at få vejledningen på dansk så sig til så laver jeg den gerne!
Materials:
super glue
a large paper clip.
a poster tube (or any thing else you have. It should be a bit bigger than your wrists so you can get it on your wrist.)
about 3 meters of leather string (it depends of how many strings you want.)
I found this video on Youtube, and I think it explains the technique pretty well.
But first, wrap the string 9 times around the tube, and split them up in 3 sections of 1, 4 and 4. Be sure that the strings don't cross each others.
Then follow this video. The section with one string is the "same" as the string with the end in the video
When you have braided your bracelet, you just need to follow the section of one string with the rest of the string. You will end up with 3×4 braided strings (I hope this part makes sense, if not please let me know). Hide the ends on the inside of the bracelet, use the super glue to attach the ends. Let it dry, now you have your own hand made bracelet.
If you have any questions, please let me know. I will do my best to answer them as soon as I can.